Stories from the Field:
A University of California Data Project
This spring, Humanists@Work will release Stories from the Field, a full-color booklet detailing the narratives and numbers that give voice to some of the conditions and futures facing today's UC humanities PhDs. Stories from the Field charts the economic outcomes and career trajectories for humanities PhDs against those of their peers in other disciplines, drawing conclusions from data gathered by quantitative surveys and qualitative focus groups of UC PhD alumni. At a moment when a global pandemic puts unprecedented pressure on the infrastructures of graduate education in the humanities, Stories from the Field offers alumni reflections on the meaning of humanities doctoral education and its impact in a broad field of professional environments.
Gathering and Analyzing Data on UC Humanities PhDs
Stories from the Field combines data from two UC-wide projects centered on graduate education in the humanities:

For the past three years, the UC Office of the President (UCOP) and Council of Graduate Schools' (CGS) have conducted a broad survey of UC doctoral cohorts (representing years 2001-2014). This effort to survey alumni is part of a national effort to better understand how existing graduate education and professionalization prepares (or not!) doctoral students for a range of post-graduate careers.

Throughout 2019, Humanists@Work conducted 6 PhD focus groups with alumni from across the UC system. Composed entirely of alumni working outside the tenure track, the data from these focus groups considerably expands our knowledge of working futures for humanities graduate students.

To learn more about both projects and our systemwide colloquium on the initial results, check out the Humanists@Work Colloquium.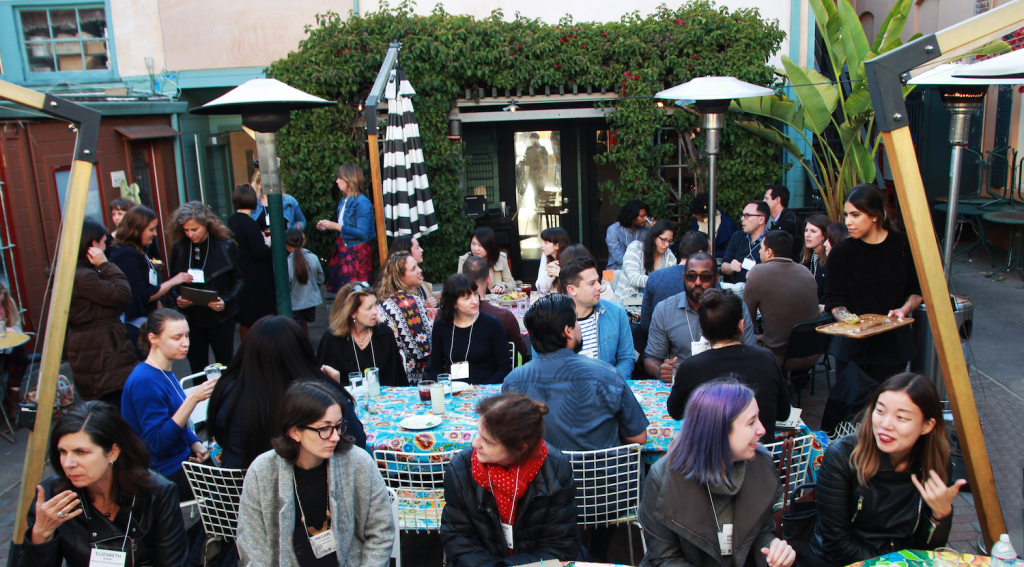 A Peek into the Data
So what did Humanists@Work learn from its analysis of the data? Quite a bit, actually. Though we have much to say on the subject, consider these data points:
Post-Graduate Earnings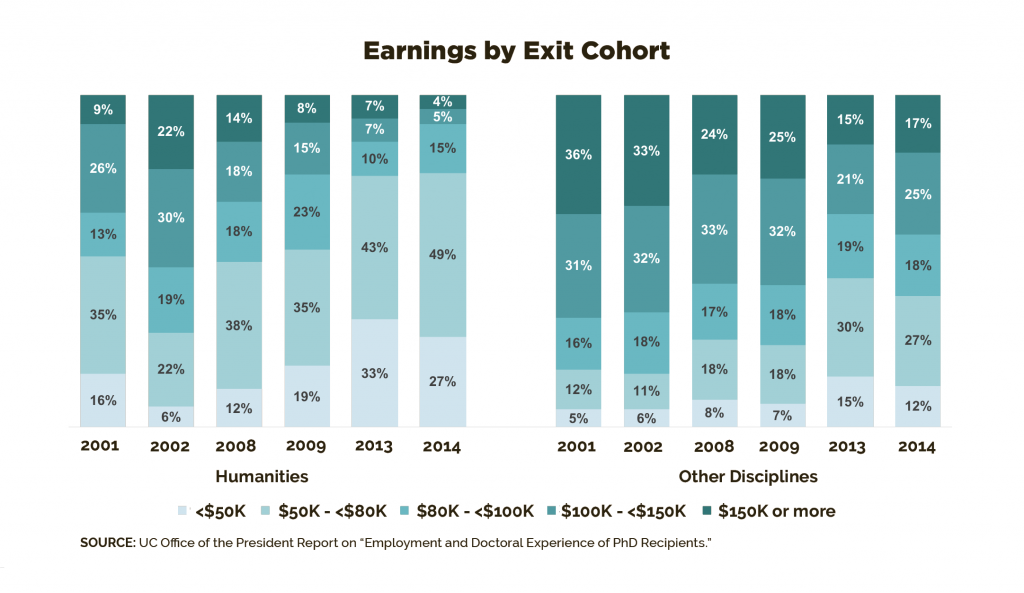 For more recent alumni (2013 & 2014 cohorts), 76% of humanities alumni report earning $80,000 and less, and over a quarter of UC humanities alumni report earning less than $50,000.
Compare these percentages to alumni from all other disciplines.* For the same 2013 & 2014 cohorts, 39-45% report earning less than $80,000, with less than 15% reporting earnings of $50,000 and less.
Earnings for humanities PhDs do increase over time, but not at the rates or to the degree that salaries rise for non-humanities PhDs. We found it interesting to compare earnings for earlier cohorts, and argue that much more research needs to be conducted in order to better understand how humanities PhD alumni fare economically post-graduation.
*All other disciplines includes all other fields surveyed minus the humanities-specific data
What Did the PhD Mean to You?
We asked all participants in our UC Humanities PhD alumni focus groups to respond in one line (this was the challenging part) to the question: What did the PhD mean to you?


"The PhD experience taught me the rigor of the humanities and,
perhaps most importantly, that there are many lives of the mind."
—UC Humanities PhD alumna


We look forward to sharing more of their responses in Stories.
Coming Soon
Humanists@Work is excited to launch Stories from the Field and share the collaborative data collection and analysis work we've been engaged in for the past three years. Stay tuned for the forthcoming publication of our Stories from the Field booklet this fall. The booklet will be available for download here on the Humanists@Work website. If you would like to receive a printed copy by mail, please email humwork@hri.uci.edu and include your mailing address. We will do our best to provide copies to all interested UC constituents.

Also this Fall 2020: A Stories from the Field webinar, where we will share insights from the data project alongside special guests and speakers.