Welcome and Introductions | Stories From the Field | Resume Workshop | The Art of the Informational Interview | Exploring Options for Humanities PhDs | Theorizing Our Moment
UCHRI's Director David Theo Goldberg and Assistant Director Kelly Anne Brown welcome participants to the workshop and provide background framing for how and why these workshops constitute a vital opportunity for the university to support a comprehensive model of graduate education.
Stories from the Field
This panel of recent UC Humanities PhDs shared their stories as humanists at work in the world—in government, educational consulting, public humanities program management, and university administration. Panelists engaged in a conversation about the transition from the academy to other sites of work, reflecting upon the ways they integrated their doctoral training and experiences with their career interests.
Participants included:
Adam Lowenstein, Vice President of Counseling and Enrollment at Summa Education (PhD English, UCLA,
2011)
Sarah McCullough, Associate Director for UCSD's Humanities Center (PhD Cultural Studies, UC Davis, 2013)
Natalie Purcell, Program Director, Office of Patient Centered Care, San Francisco Medical Center (PhD Sociology, UCSC, 2011)
Resume Workshop
For a description of the workshop, please see the San Diego Humanists@Work program.
Want to embark on your own resume workshop? We have materials that may be of interest to you:
The  original May presentation in Berkeley provides video of Jared walking participants through his helpful powerpoint presentation.
Alongside the video, check out the Job Description Analysis, an activity required of every participant at the workshop.
Lastly, post-workshop resume template available for download here.
The Art of the Informational Interview
The informational interview is a powerful tool for networking and gaining an insider perspective on careers and organizations. Learn more about the genre of the Info Interview from an experienced career counselor.
Click the image below to access the PowerPoint file from the presentation.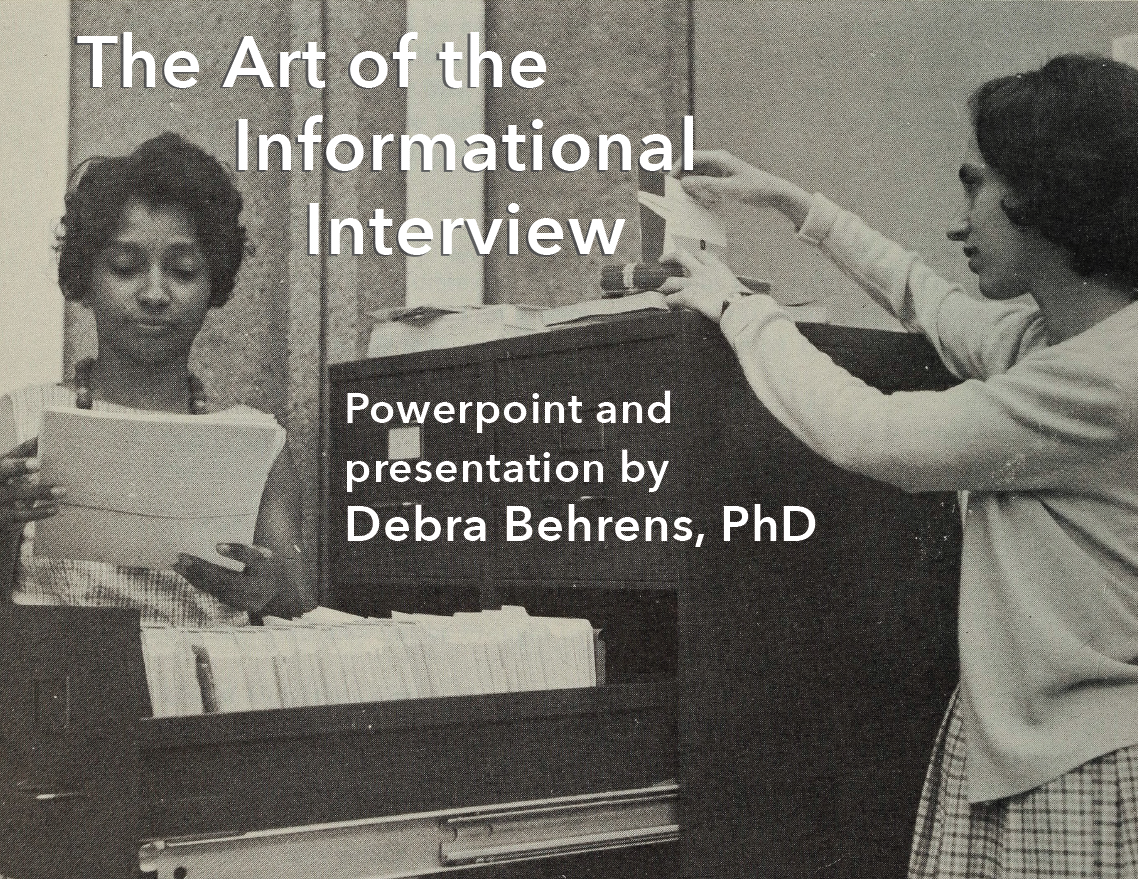 Exploring Options for Humanities PhDs
The focus of this session was upon connecting interests and skills with career opportunities while also introducing career fields, emerging trends, and industry sectors relevant to humanities PhDs. Conference attendees completed the Works Values Inventory prior to the workshop.
Click the image below to access the PowerPoint file from the presentation.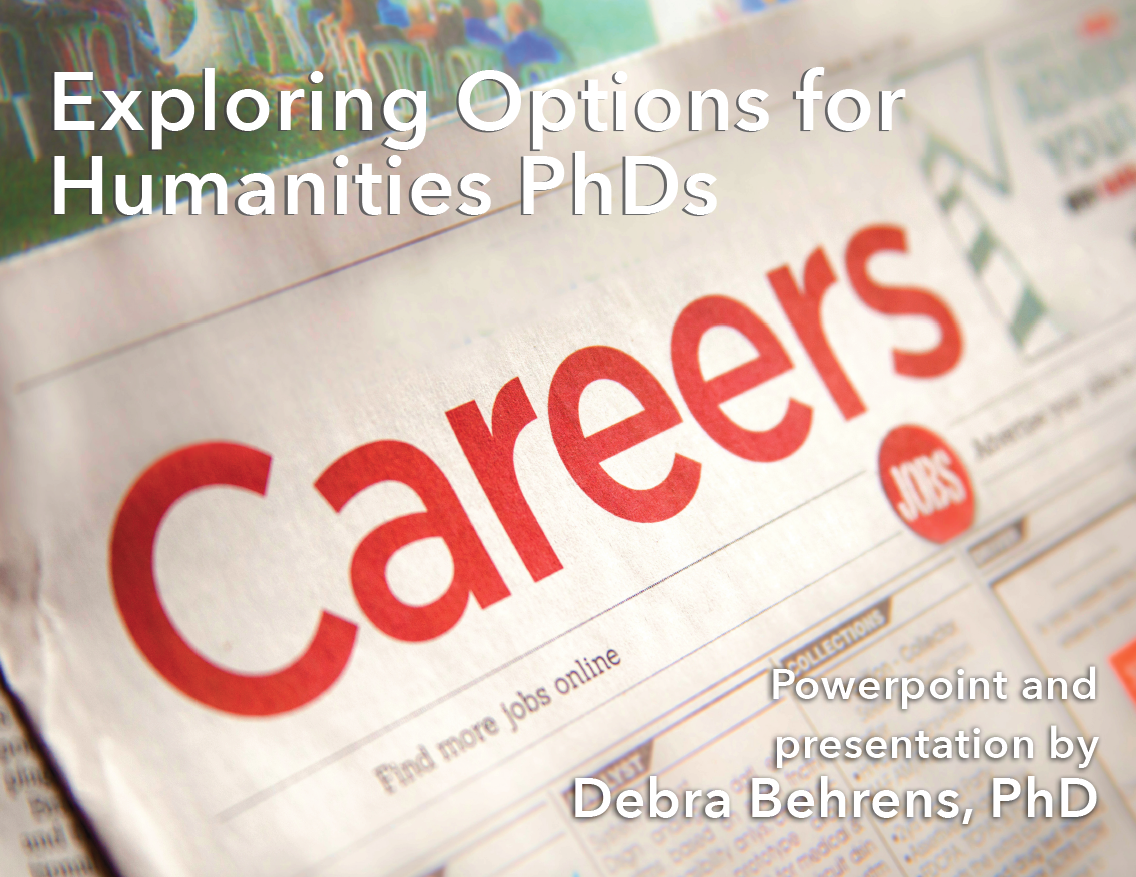 Theorizing Our Moment
What was once a very private practice has now become the topic of a very public conversation. How do we shape the conversation around humanists at work? Moderators will explore this topic in relationship to the day's events.
Click through to the gallery where you can see the questions and answers that seeded the "Theorizing Our Moment" final conversation.
Workshop Poster and Program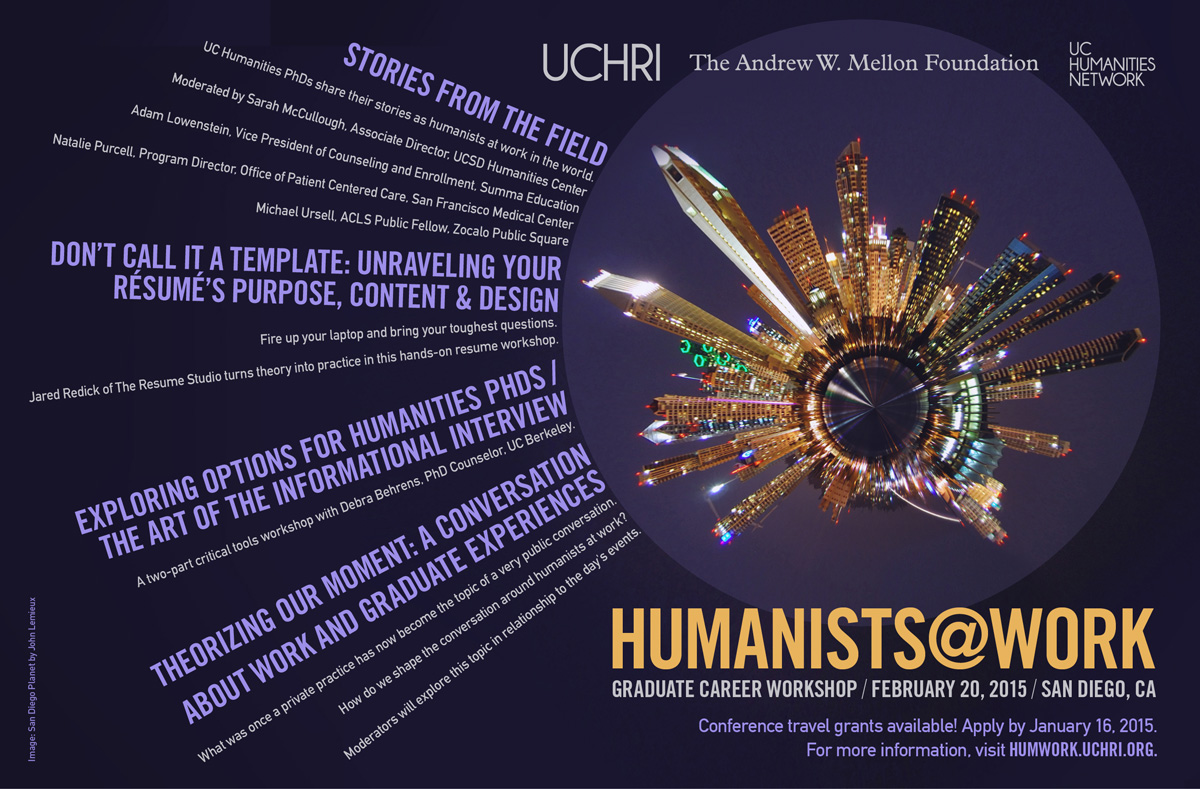 To view the program, click on the poster above.